Major Festivals of Nepal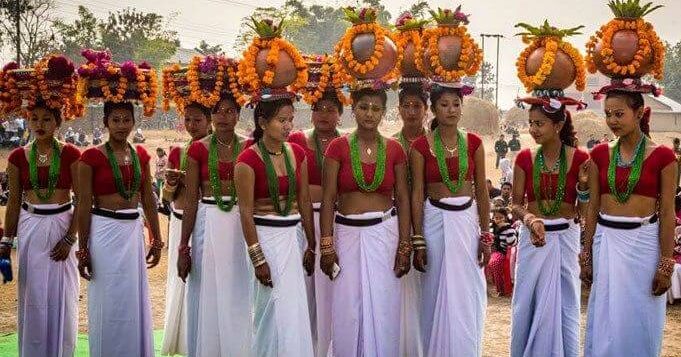 August 5th, 2019 No Comments
A culturally rich and ethnically diverse country Nepal celebrates hundreds of different festivals. Kathmandu is not only the political centre of the nation but also the cultural pivot.  123 different ethnic groups living to follow unique traditions and culture celebrating their major festivals in a fun-filled mood. Almost every day of the year, there is a festival being celebrated. Unique decorations, fashions and rituals made each festival interesting. Worshipping the different deities for wellbeing, power or wish fulfilment is the uniqueness of each festival.
Besides that, the personal celebrations and ceremonies like marriage, Upanayana, Name giving ceremonies and death rituals follow specific rituals and traditional practices. Except for the death rituals, other celebrations include music, dance, and songs. Every festival in Nepal is filled with fun, joy and cultural events. Here are some of the Major festivals of Nepal
1. Indra Jatra
The eight-day long Indra Jatra festival falls in September and is one of the most exciting and revered festivals of the Newar community of the Kathmandu Valley.  This also marks the beginning of a month-long festival season of autumn. It begins with the erection of a wooden pole made of pine at Basantapur Square in front of the old Hanuman Dhoka Palace.
For the pole-raising ceremony, hundreds of spectators gather at the Palace Square and on the surrounding temples. The chariot of Kumari, the Living Goddess, is taken out in a procession through the main streets of Kathmandu.
Masked dancers are known as Lakhay take to the streets almost every evening accompanied by loud drums. The festival commemorates the time when Indra came down from heaven in human form to look for a herb.
Each night of Indra Jatra the shrines and ancient palace buildings around Kathmandu Durbar Square are aglow with oil wicks. Each night on the platform in front of the temple of the Living Goddess, there is an enactment depicting the ten earthly incarnations of Lord Vishnu. The large image of Akash Bhairab's head is put on display out in the open directly facing his temple at Indra Chowk.
In the afternoon of the day before the full moon, ecstatic mobs gather near Hanuman Dhoka Palace for the long-awaited Living Goddess' chariot procession to catch a glimpse of the revered little Newar girl who has been deified as Kumari representing Goddess Taleju.
The chariot of the Kumari followed by two other smaller chariots carrying a representative of Ganesh and Bhairav is taken to different parts of the old Kathmandu through the narrow alleys where people gather to watch and pay homage. The festival of Indra Jatra ends with the lowering of the (lingam) pole bearing Indra's flag amidst religious ceremonies.
2. Dashain
Dashain festival is the most widely celebrated best Hindu festival of Nepal. The celebrations last up to 15 days. Dashain festival is the time of family, friends, and relatives reunion, exchange of blessings and enjoy the holiday.
People worship nine avatars of goddess Durga. From a first day Ghatasthapana to 7th day Phool Pati, 8th-day Mahaastami, 9th-day Nawami, 10th day Vijaya Dashami and 15th day Purnima Dashain will be celebrated. Among which 10th day Vijaya Dashami is considered as the main day to celebrate. Those who are busier they also took a holiday for this at least one day to celebrate Dashain.
Nepalese Hindu people around the world will celebrate Dashain festival no matter where they are. During Dashain, men and women visit their relatives, and elder's to seek tika, Jamara, and blessings. During Dashain, there will be a public holiday in Nepal. School, colleges will remain closed for 15 days for full festivals to enjoy.
Children and also younger peoples buy new clothes, eat delicious foods especially meat during Dashain in Nepal. Kite flying is also one of the main events of this festival.
Most of the foreigners visit Nepal in the Autumn season of Nepal for trekking in the Himalayas. Autumn is considered as the favourable and best time to visit Nepal its also because of being the months of most celebrated festivals of Nepal such as Dashain and Tihar.
3. Tihar
Tihar festival is known as the shining festival of Nepal, the festival of lights and colour in Nepal. Many candles and lanterns are lit inside and in front of houses. Tihar Festival is the second biggest festival in Nepal after Dashain. After around a month of Dashain Tihar festival will be celebrated.
Tihar festival in Nepal is a beautiful celebration of five days. People worship Goddess Lakshmi with joy and enthusiasm. They also worship cows, crows, and dogs and decorate houses and temples with Diyas, electric lights, colourful paper crafts, etc. Kids come to visit neighbours in small groups and sing Tihar songs also called "Dheusire" for blessings, and enjoy with friends.
Laxmi Puja, Gai Tihar, Kukur Tihar, Kag Tihar, Bhai Tika are the days of Tihar festival in Nepal. Among which Bhai Tika is the main day to celebrate. Brothers and sisters accept tika and blessing from each other.
Day of the dogs, Kukur Tihar in Nepal
During Tihar festival, tika is not same as in Dashain. The seven different colours Tika will use in Tihar. And sisters give some foods, clothes to brothers  and brothers also do the same or give money, clothes,  some other valuable gifts etc. Brothers and sisters honour each other, and the sisters pray to Yama (the god of death), for their brother's long life, and progress in life. Read more…
3. Teej
Teej is the festival celebrated by Hindu women in August or September. Both married and unmarried women celebrate this festival by worshipping Lord Shiva. This festival is celebrated for three days through prayer, songs, and dance.
Women are dressed in red saree, red tika on their head, and various ornaments. In Teej, women sit for 24-hour prolonged fasting, without any food and even without drink water to ask for special blessings by Lord Shiva. Unmarried girl do fasting to get a good husband in their life, and married women pray for husband's  long life, success, and prosperity being on fasting during Teej festival. 
4. Maghe Sankranti
Maghe Sankranti is a festival celebrated in January. It is also known as Makar Sankranti. It is celebrated in Nepal as the beginning of the Nepali month Magh. People take a holy bath on this festival and is celebrated in all over Nepal.  There are specially designated food fruits for this festivals include sweet potato, sweets, Boil Potato, Yam with Ghee and Solid Molasses etc.
The Tharu community of plains celebrates the first day of the month -Magh i.e. Maghe Sankrati as Maghi Festival which also marks the new year for Tharu and the day is also famous as Maghi parva.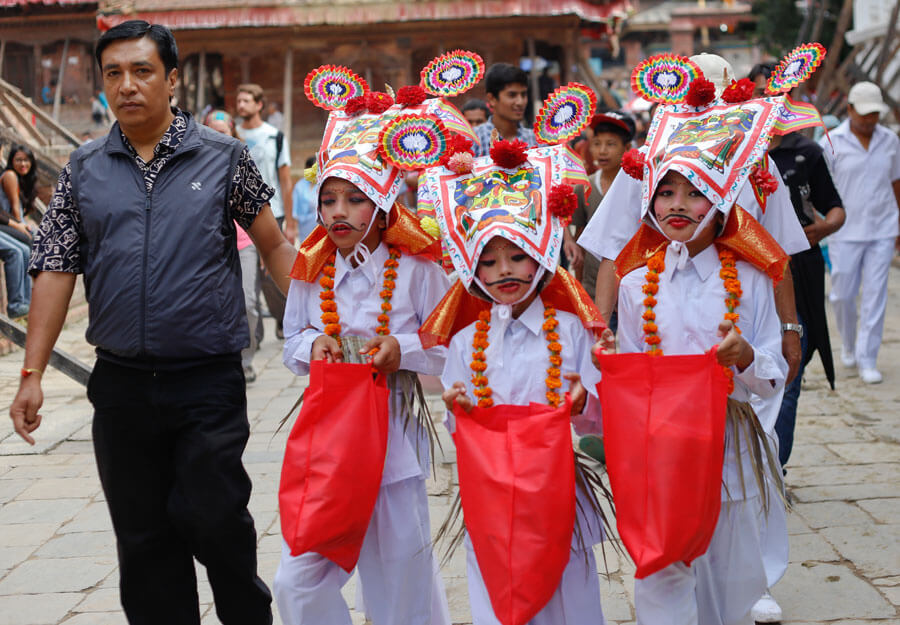 Gai Jatra is a festival of cows. It is widely celebrated in Kathmandu valley by local Newar community and also celebrated in the hilly region of Nepal by a Newar community. This is one of the unique festivals celebrated in Nepal. It is dedicated to diminishing the sadness from the death of family members. In this festival, kids get dressed as cows and take part in cultural events.
Newari Peoples show their cultural dances, sings, and do fun on the streets of Kathmandu Valley. However, there are other Jatras  especially celebrated by Newar community which includes Indra Jatra, Bhaktapur Bisket Jatra, etc. Each Jatra has their unique way of celebration.
6. Lhosar
Lhosar means new year. When Tharu celebrates Magi as a new year, Sherpa celebrates Lhosar as their new year. Lhosar is one of the most popular festivals celebrated in Nepal on different days. The new year festival is celebrated by dance, song and by exchanging gifts. During this period, the major Buddhist monasteries and stupas like Swayambhunath, Boudhanath are decorated with prayer flags. Devotees pray together to cook exceptional food and People consume changkol, a local Tibetan drink.
Buddhist religion follower community like Tamang, Sherpa, Gurung, Thakali will mostly celebrate Loshar festival in Nepal. The three major popular Losar are Sonam Losar, Tamu Losar & Gyalpo Losar and it has been celebrated in the different times. 
7. Janai Purnima

A scene of eastern side of Pashupatinath Temple during ritual thread festival (Janai Purnima)
Janai Purnima is a festival of love and purity. People celebrate this festival in the Nepali month of Shrawan. On this occasion, people share gifts and greetings  among brother and sister. Like other festivals, people eat unique dishes during the day.  Kwati (sprouted beans) is one of the main dishes prepared during the festival.
The main attractions of this festival is that sisters tie the sacred thread to their brothers and pray for good health in the lower plains of the country to mark the festival. But in Nepal, people tie a sacred thread on their hand from their elders especially from their family priest. And young male guys will tie a holy ribbon on their body and the man (matured after doing bratabandha) wear Janai, the sacred thread during the day for the purity 
8. Buddha Jayanti
Buddha Jayanti is a Buddhist national festival of Nepal. There will be no public holiday for all, but Buddhist religion people will get a leave on this day. On the full moon day which is in May, Buddhists will celebrate Buddha Jayanti in Nepal.
It is believed that Buddha was born in Nepal on this day hence Buddhists from all over the world visit Nepal to celebrate this festival. Buddhist temples like Swyambhunath, Boudhanath and other temples all over Nepal are decorated with butter lamps on this day.
9. Holi – Fagu Purnima
Holi is the festival of colors which is celebrated every year in Nepal. This festival is celebrated for two days — especially one day in the hilly region of Nepal and another next day in Terai region of Nepal.
To make you more clear,  famous city like Kathmandu will celebrate Holi on the first day, and another renowned city of Nepal- Chitwan will celebrate this festival on the next day.
Holi celebration in Basantapur
People prepare for this festival by decorating their face in different colors and they play with other peoples by water gun and exchanging colors on their face. People gather together on famous places will sing Hindi, English, Nepali song with DJ and dance along with colours.
10. Mahashivaratri
Mahashivaratri is one of the major celebrated Hindu festivals of Nepal. This festival is celebrated by worshipping Lord Shiva. All the monks gather at various Shiva temples and worship. Temples are decorated with lamps and people fast on this day.
Idols are washed with Holy water. All the devotees of Nepal and India will visit the Pashupatinath temple in Kathmandu. Devotees chant 'Om Namah Shivaya' all night. And there will be a huge crowd and celebration on this day.
11. Chhat Parva
This festival is celebrated all over Nepal in March or April for four days. People take a ritual bath in the river. Devotees fast on the first day of the festival and worship sun and offer prayers. They lit lamps and sing. People gather in the evening to perform cultural activities. Mainly this festival is celebrated by the people of Kathmandu valley, lower plains of Terai region including other hilly region of Nepal. Read more..
12. Tiji
Tiji is a festival celebrated for almost three days in Nepal. This festival usually takes place in May. It's a purification festival that takes place at the beginning of every harvest year. People perform ritual dances during this festival. Tiji is celebrated for world Peace.
Tiji festival will be celebrated in Lo Manthang, Upper Mustang. Trekkers plan a trip to Upper Mustang trek during this festival time to witness the beauty of Tibetan people of Nepal their cultural activities and rituals.
13. Shree Krishna Janmashtami
Krishna Janmashtami is usually celebrated in August. People worship Lord Krishna as it is believed that he was born on this day. Krishna Janmashtami includes traditional singing and dancing. Many devotees fast and worship Lord Krishna. Temples are lit with lamps as devotees offer flowers and food to Lord Krishna.
14. Chaite Dashain
Chaite Dashain or small Dashain is the famous religious festival celebrated in Nepal. It is celebrated in the last month of the Nepali year Chaitra. Devotees fast on this day and visit temples to devote gods. They also worship goddess Durga. At Chaite Dashain, people will eat delicious foods and enjoy with their family, friends, and relatives and also seniors offers tika to the juniers with all blessings.