Oscar Winning Actor Adrien Brody visits Nepal for Everest Base Camp Trek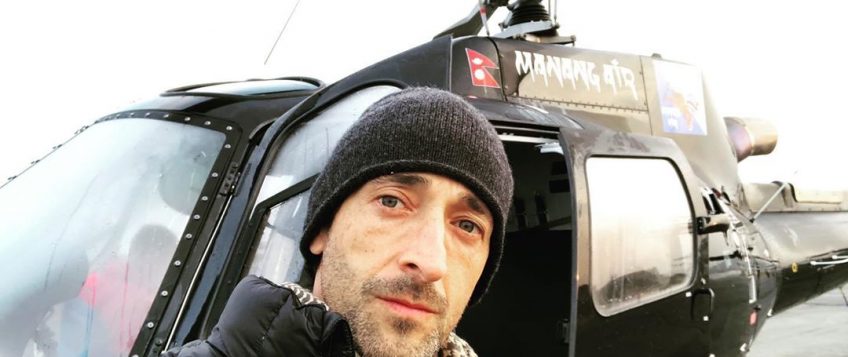 December 2nd, 2019 One Comment
Oscar-winning American actor/producer Adrien Brody is currently in Nepal.  He arrived in Nepal on the last week of November 2019 for trekking in Everest Base Camp (EBC).
On the 30th of November, he took his official Instagram account and shared a selfie in front of a black chopper of Manang Air. He wrote, "The adventure begins Himalayas."
This is second visit of Brody to Nepal. Last time, he came to Nepal in 2015 as a brand ambassador of Bvlgari. During the last visit, he went to Kavre and Sindhupalchowk to attend a program piloted by Save the Children and interacted with the locals.
He is one of the prolific Hollywood actors to won the prestigious award—Oscar Award for Best Actor from 'The Pianist (2002)'. He starred in over the dozen notable movies including King Kong (2005), Predators (2010, 'The Darjeeling Limited' (2007), 'The Grand Budapest Hotel (2014)' and among others.
He shared some videos and photos during his trip to EBC.
Brody crossing the suspension bridge.
Also read this Adrien Brody and friends raise a smile in Nepal.