Gosaikunda Lake Trek
Grade: Moderate
Duration: 6 Days
Destination: Nepal
Activities: Langtang Trekking, Cultural Tours
Departure: Flexible
Best Seasons: All Seasons
Highest Altitude: 4500m
Start-Ends: Kathmandu-Kathmandu
Price of Package:USD 1199
The Gosaikunda Lake Trek is suitable for all the Pilgrims. Hindu, Buddhist, Shamans including adventure enthusiasts and keen trekkers trek the trail.  The sudden gain in elevation makes the tour challenging. However the natural beauties, mountain sceneries and challenging hike makes the trek more attractive.
Highlights of Gosaikunda Lake trek
Experience the village life of Nepal mountain community,

Encounter the various flora and fauna, Several species of birds

Visit the cheese factory at Chandanbari (Sing Gumba)

Tamang and Sherpa Settlements and their culture

Touch the sacred lakes of Naagkunda, Gosainkunda, Ganeshkunda, Saraswatikunda, Suryakunda, and many more on the way.

 Capture the diverse vegetation
 Walkthrough the dense Pine forest
Capture the wide mountain panorama of Annapurna, Manaslu, Ganesh Himal and Langtang mountain ranges
Culture, religions, rituals, and more..
Gosaikunda Lake lies in between the high peaks. Its location is surrounded by the beautiful highland of the Langtang region of Nepal.  The stunning holy lake of Gosainkunda neighbors other lakes like Saraswati Kunda, Surya Kunda, and Bhairab Kunda. All these lakes are holy for both Hindu and Buddhist followers.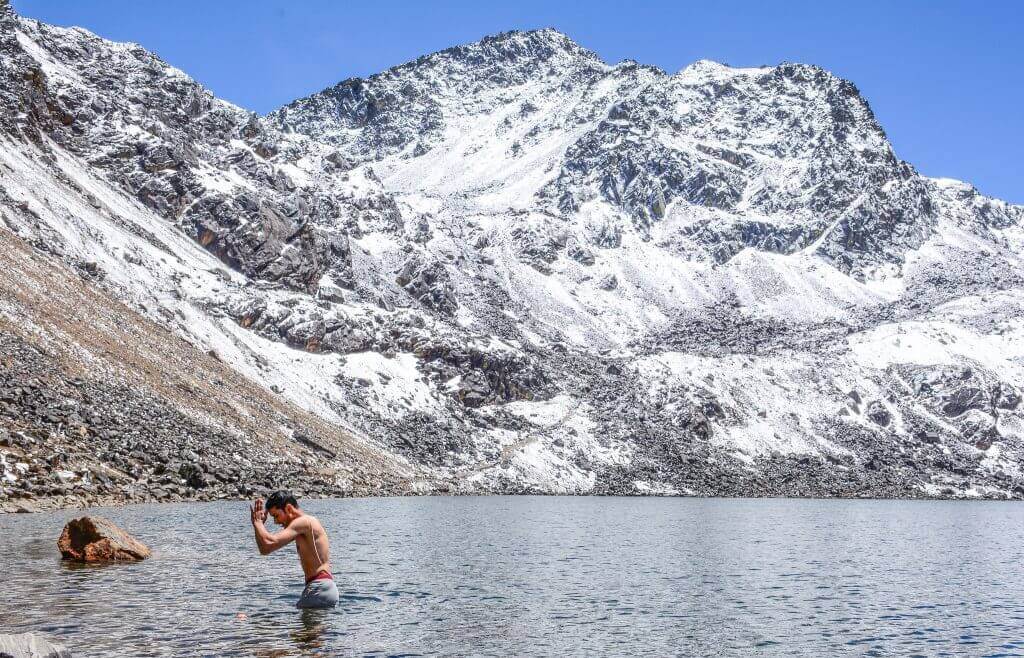 Gosaikunda Lake trek – A devotee taking a dip to cleanse the spirit
Gosaikunda – a famous pilgrimage
The place has its own different stories of origin. According to one story, Lord Shiva, the God of Power and Destruction in Hindu Mythology created  Gosaikund Lake. He thrust his Trisul (holy Trident) into a mountain to extort water so that he could cool his hurtful throat after he had swallowed poison. Similarly, people believe the large rock at the center as Shiva Shrine.  In addition to this, the holy water of Gosaikunda said to have particular significance. Many devotees visit to dip the lake during Gangadashahara. On the occasion of the sacred thread festival, Janai Purnima, thousands of pilgrims of Nepal and India visit the area.
Gosaikunda Lake site is one of the most interesting religious sites with beautiful sceneries. The trekking trail generally begins from Dhunche. The Gosainkunda and other surrounding lakes are situated by the side fo the trekking route of Dhunche –Gosaikunda –Helambu trail. The Gosaikunda trek also adjoins the famous Langtang trek in the same district. The holy lake is two days trek from Dhunche. Many thousands of devotees visit this site on the full moon day called Janai Purnima. That falls on the mid-June to mid of August on the basis of Lunar Calander. People dream to take a ritual holy dip in the cold mountain water of Gosaikunda Lake.
Oriental Journeys offers different trekking itineraries like Gosainkunda Luaribina Pass Trek and Langtang Gosainkunda Trek. Travelers can choose even to customize the standard itineraries. We serve the travelers with logistics and travel arrangements for the visitors to Gosainkunda Lake. 
Route Map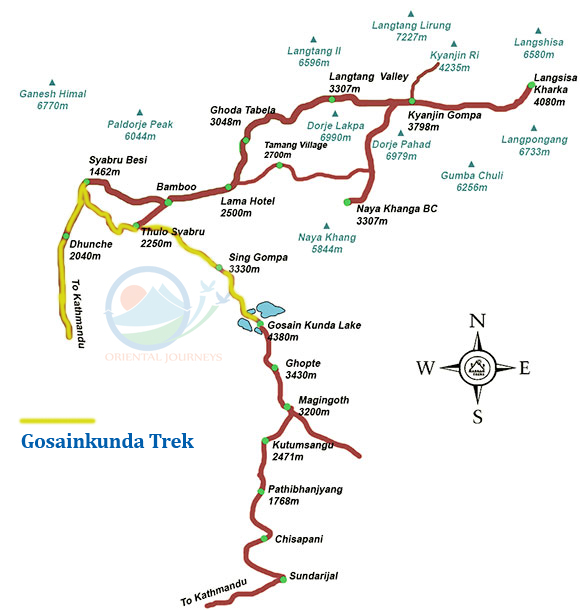 Outline Itinerary
Day 01: Arrive Kathmandu
Day 02: Drive from Kathmandu to Dhunche (2090m) 6 to 7 hour. and trek uphill to Deurali
Day 03: Trek to Cholangpati via Chandan bari
Day 04: Trek to Gosainkunda and Explore the lake area
Day 05: Trek back to Chandanbari
Day 06: Trek Back to Dhunche
Day 07: Drive back to Kathmandu
Day 08: Departure to your next destination
Detail Itinerary
Day 01: Arrive Kathmandu

From Tribhuvan International Airport you will be transferred to your hotel. Oriental Journeys will invite you for the trip's itinerary briefing. You will be provided with the necessary permits.

Day 02: Drive from Kathmandu to Dhunche (2090m) 6 to 7 hour. and trek uphill to Deurali

Early morning, your guide from Oriental Journeys will take you to the bus park. The Bus to Dhuche starts from Balaju Bus Park which is close to Thamel. You will be driving through the beautiful village and you will see snow Scrapped Mountain along the Langtang Himalaya. The short hike starts from Dhunche. You will be staying at Deurali for Overnight.

Day 03: Trek to Cholangpati via Chandan bari

Trek uphill to hill trekking to Chandanbari. You will have the opportunity to explore Chandanbari till the lunch, Visiting Cheese factory and tasting the Yak-Nak Cheese is wonderful to experience. After Lunch Hike up to the Cholangpati. Explore surrounding. Overnight at the Lodge

Day 04: Trek to Gosainkunda and Explore the lake area

Trekking to Gosaikunda from Cholang Pati via Lauribina is a tougher walk. The climb is easy but due to the high altitude walk, you should walk slowly and steadily. On the way, you will enjoy the unique mountain views of Ganesh Himal, Tibet Mountains and Langtang Mountain range and the valley down.

The Gosaikunda is surrounded by many other holy lakes which are popularly known as "Kunda" in Nepal and they are named as Saraswati Kunda, Surya Kunda, Bhairab Kunda etc. Beside holy lake visit, you can enjoy the breathing mountain view of Mt. Langtang and Ganesh Himal from the same spot.
and it will make your trekking become pleasant and touch your heart.

Day 05: Trek back to Chandanbari

Hike back to Chandanbari.

Day 06: Trek Back to Dhunche

Trekking downhill from Chandanbari to Dhunche is tougher compared to the previous day. Walking inside the forest won't let you get tired much due to an adequate level of oxygen.

Day 07: Drive back to Kathmandu

Drive back to Kathmandu from Dhunche, via Trisuli Bazar. Enjoy the valley view, talking with local and observing the local life.

Day 08: Departure to your next destination

You will have free time in the morning to explore the Thamel market. A representative from Oriental Journeys will drop you at the Tribhuvan International Aiport for your depature to the next destination.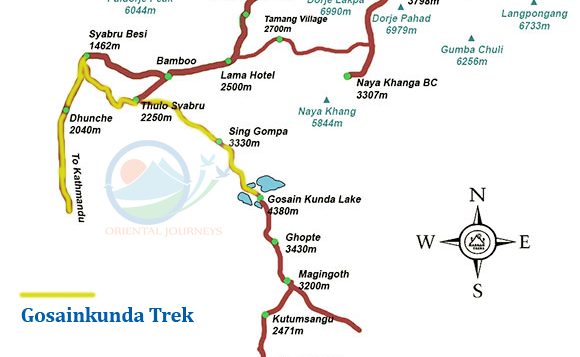 Cost Includes
Airport picks up & drops
Airport taxes
3 meals per day during the trek (Breakfast Lunch & Dinner) including Tea or coffee
Accommodation on Guest House (Lodge) during the trekking
2 night's Hotel in Kathmandu on Bed & breakfast plan
An English speaking Guide
Necessary Porter 1: 2 (one porter for two Guest) the porter will carry (30KG in maximum) your luggage during the trek
All Government local Taxes
National Park Entry Permit Fee
(TIMS) Trekker's Information Management System card
Guide and porter salary
Guide & Porter insurance during the trekking
First Aid kit above 6 pax Compulsory from Agency
Extra services according to the guest per Demand '' Please feel free to inform us''
Cost Excludes
Trekking equipment any type of personal expenses
Alcoholic Beverage drinks, phone and Laundry
Emergency Rescue and Travel Insurance, Trip Cancellation cost accident or Health, Loss Theft or Damage and
personal effects.
Hot Shower
Entrance Fees any kind of Temples, Monastery during trek days etc.
Tips and Gratuities
Reviews
Sorry, no testimonials found.
Add a review for this package