Langtang Valley Trek
Grade: Easy/Moderate
Duration: 10 Days
Destination: Nepal
Activities: Trekking, Langtang Trekking
Departure: Flexible
Best Seasons: September, October, November, December, February, March, April
Highest Altitude: 4983m
Start-Ends: Kathmandu - Kathmandu
Price of Package:USD 750
Langtang Valley Trek is a beautiful hiking trip inside the Glacier valley of the Langtang Mountain range. Furthermore, it is also a popular place for exploring the culture of the Tamang People. Langtang Valley is a popular destination among travelers to carry out several activities including trekking, climbing, hiking, and bird watching. Although there are different tailor-made itineraries for Langtang valley trekking varying from 7-14 days. However, a week itinerary will be ideal for the trekkers. Trekking into Langtang Valley is an easy approach for travelers having limited time for the trip.
Etymologically speaking, Langtang is the combination of two different words Lang and Tang. Lang stands for Yak whereas Tang signifies to follow. This region is located at the border of the autonomous region, the southern part of Tibet, China. It is approximately 32 km north of Kathmandu Valley. As the national park preserves habitat for different species of flora and fauna, the Government of Nepal has protected the region as "Langtang National Park for the Himalayan Wildlife Reserve". Therefore, the initiative further aims in preserving the natural environment for all the flora and fauna.
Highlights of Langtang Valley Trek
The trail through stunning forests, high alpine meadows,
Traces of the deadly effect of the devastating Mega Gorkha Earthquake of 2015
Opportunity to support people rebuilding their lives and livelihoods after the earthquake
Yak pastures and mule caravan
Vast open valleys at the end of the trek offer panoramic views across
Incredible mountain views of the Langtang Himalayas
The beautiful valley down from Kyanjin-Ri and Tsherko-Ri
Habitats for the animal include musk deer (Moschus Chray Sogaster), Himalayan Tahr (hermitregus jemlahicus), Himalayan black beer (selenarctos thibetanus), Snow leopard (Panthera unica), Wild god (cuenalpinus), ghoral (nemorhedus goral) and bird species of more than 250.
Popular zone for Red Pandas
Sights of legendary Yeti is a significant story of the National Park
Home to hundreds of ponds and lakes including Gosainkunda and Suryakunda
Uniqueness
Approximately, forest covers 25 percent of the National Park. There are a wide variety of climatic zones, from subtropical to alpine. The trees include deciduous oak and maple, evergreens like pine, and different kinds of rhododendron flowers within the park territory. Likewise, the park also provides a chance for animal sightseeing and bird watching is another beautiful opportunity. Moreover, the park also provides a habitat for several different wild animals. 
Langtang National Park includes more than 45 villages within and boundaries of it. The population dominates by Tamang Ethnic Community particularly called Hyalmo. Most of the people in the villages followed traditional occupations like farming and cattle bearing.
Langtang Valley – Gosainkunda Trekking Map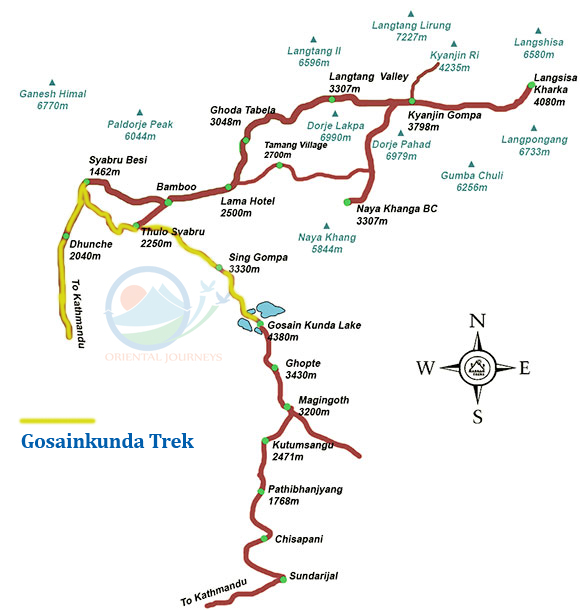 Alternative Itinerary :
Langtang Valley Trek 7 Days
 1st Day: Kathmandu to Syavrubesi (6-7 hours drive)
2nd Day: Trek to Lama Hotel (6-7 hours)
3rd Day: Lama Hotel – Langtang Village ( 7 hours)
4th Day: Langtang Village – Kang Jin Gompa (3900 meters) (4 hours)
5th Day: Kang Jing – Lama Hotel (7 hours)
6th Day: Lama Hotel – Syavrubesi (5-6 hours)
7th Day: Syabrubesi – Kathmandu (6-7 hours drive)
Outline Itinerary
Day 01: Arrival in Kathmandu
Day 02: Drive from Kathmandu to Syabrubeshi
Day 03: Trek from Syabrubeshi to Lama Hotel
Day 04: Trek from Lama Hotel to Langtang Village
Day 05: Trek from Langtang Valley to Kyanjin Gompa
Day 06: Explore around Kyanjin Gompa and climb to Tsego Ri
Day 07: Trek Kyanjin Gompa to Ghoda Tabala
Day 08: Trek back from Ghoda Tabela to Syabrubeshi
Day 09: Drive Syabrubeshi to Kathmandu
Day 10: Transfer to the airport fro your onward journey
Detail Itinerary
Day 01: Arrival in Kathmandu

Kathmandu welcomes you with its beautiful Himalaya views over the valley and terraced fields below as you fly here. At the exit of customs, a representative from Oriental Journeys will be waiting to welcome you in Kathmandu. Representative will guide you to your hotel. You will be briefed about your tour schedule. In the evening, you will have your first meal in Thamel. There are varieties of restaurants to chose which offer both Western and local Nepali cuisines.

Day 02: Drive from Kathmandu to Syabrubeshi

It is a 7 hours journey from Kathmandu to Syabrubensi, a gateway to Langtang Valley. The road climbs high over ridges to leave Kathmandu valley. From the road side you can enjoy impressive distant views Annapurna Himalaya range along with the views of Mt. Manaslu, Mt. Ganesh Himal and some other peaks of Langtang mountain range.
The roads goes along the bank of Trishuli river and climbs Dhunche following adventurous journey. Finally, it climbs down to Syabrubensi for night stay.

Day 03: Trek from Syabrubeshi to Lama Hotel

Just down from Syabrubensi, trail crosses the river coming from Tibet border. It is a big river called Bhote Khola. The trail gradually climbs through sub-tropical forests and joins with another trekking trail from Thulo Syabru. On the way, it passes through Pahiro, Bamboo and finally reaches at Lama Hotel. The whole way, you will follow Langtang river, enjoy chattering birds, encounter long tailed black faced Langoor and several wild animals.

Day 04: Trek from Lama Hotel to Langtang Village

Lama Hotel is a small cozy business settlement at the bank of river. The trail continues with gently ascent through forest, with frequent glimpses of Langtang Lirung between the trees. The tree line finishes and trails opens to a free sky at Ghoda Tabela (3,000 m. / 9,842 ft). Established as a Tibetan resettlement project office, there is an Army camp there with no permanent settlement in surrounding of Ghoda Tabela. Particularly, after Mega Earthquake of 2015, Nepal Army also discontinued there stay at the post. The next part of the trail is major village of Langtang, which was completely devastated during mega earthquake of 2015. Now, reconstruction of the village is almost complete. New village of Langtang is established quite a head of the old one. You visit to this place supports them.

Day 05: Trek from Langtang Valley to Kyanjin Gompa

You will leave Langtang village after breakfast and climb the next flat hill which is called Mundu. Continuous gentle walk through Yak pasture takes you to the bank of Langtang Khola. You follow the river coming from Langtang Lirung glacier up to the next suspension bridge, you will cross it to reach the Kyanjin village. There is a small and old monastery called Kyanjin Gumba. You can taste local NaK cheese produced in the government-operated cheese factory.
You take your lunch and free to hike up towards Langshisha Kharka to see some of the amazing views or you can climb up to the Kyangjin Ri to expericence the breathtaking panorama of Langtang peaks and Langsisa-Ri including many other peaks.

Day 06: Explore around Kyanjin Gompa and climb to Tsego Ri

You either have two option for today. Wake up early morning and go for Tsego Ri climb or rest and explore the area. You can visit the monastery and the cheese factory, walk up the moraine to see the spectacular ice faces and tumbling glaciers of Langtang Lirung or ascend Kyangjin Ri directly behind the village, for a breath-taking panorama of the Langtang peaks, valley down and surrounding

Day 07: Trek Kyanjin Gompa to Ghoda Tabala

From Kyangjin retrace the route you followed up the valley. In the evening reach Ghoda Tabela and enjoy the stay for overnight.

Day 08: Trek back from Ghoda Tabela to Syabrubeshi

When you reach Ghoda Tabela you can choose the alternate trail to come down by crossing new bridge to walk from another side of the river. The trekking route down to Syabru Bensi is same that you followed while ascending. After four hours of walking, you will reach at Syabru Bensi. After checking in the hotel, you can take bath in natural hot spring at the bank of river just 15 down from the town. You can spent evening by celebrating your trek success at the restaurant of hotel.
Comparatively, it takes less time to descent than to ascent.

Day 09: Drive Syabrubeshi to Kathmandu

Take a private vehicle or local bus to drive to Kathmandu. The driving takes around 7 hours to reach Kathmandu.

Day 10: Transfer to the airport fro your onward journey

Today is time to say you good bye at Tribhuvan International Airport.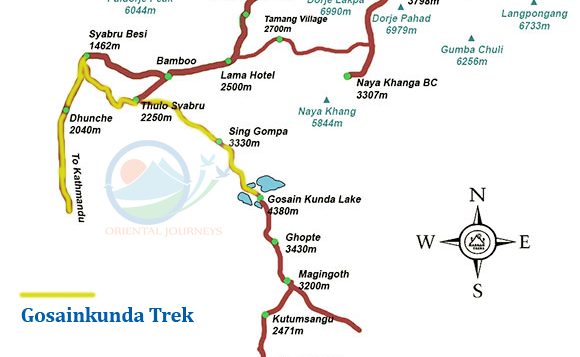 Cost Includes
Airport pick up & drop
3 meals per day during the trek (Breakfast Lunch & Dinner) including Tea or coffee
Accommodation on Guest House (Lodge) during the trekking
2 night's hotel in Kathmandu on Bed & breakfast plan
An English speaking Guide
Necessary Porter 1: 2 (one porter for two Guest) the porter will carry (30kg in maximum) your luggage during the trek
All Government local Taxes
Langtang National Park Entry Fees
(TIMS) Trekker's Information Management System card
Guide and porter salary
Guide & Porter insurance during the trekking
First Aid kit above 6 pax Compulsory from Agency
Cost Excludes
Trekking equipment any type of personal expenses
Alcoholic Beverage drinks, phone and Laundry
Emergency Rescue and Travel Insurance, Trip Cancellation cost accident or Health, Loss Theft or Damage and personal effects.
Hot Shower
Entrance Fees any kind of Temples, Monastery etc
Tips and Gratuities
Any other things not included in included list.
Reviews
Sorry, no testimonials found.
Add a review for this package